Kyoshi Jim Driggs inducted in 2015
---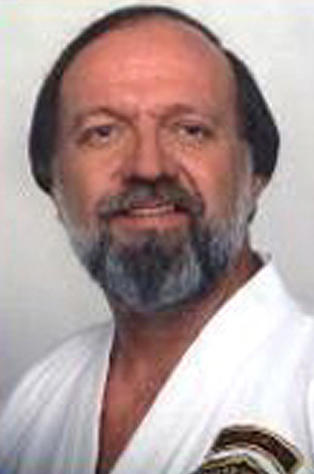 Jim began his life-long commitment to martial arts starting while he was serving in the United States Navy and stationed in Okinawa, Japan. In the early 1960s, Kyoshi Jim Driggs began studying Judo in Cincinnati, Ohio under Sensei Osako. Later he studied self-defense, which ultimately led to a teaching position and the opportunity to manage a club. After several requests from the public, Sensei Jim Wax began teaching karate at the club. Even to this day, Kyoshi Driggs considers Sensei Wax to be a highly knowledgeable instructor. After Sensei Wax parted ways with the club, Kyoshi Driggs joined forces with the Grand Master's son, Takayoshi Nagamine. Later after splitting from the owners of the club, Kyoshi Driggs and Sensei Nagamine jointly opened up the first Shorin-Ryu Karate dojo in Cincinnati, Ohio. There he earned the rank of Sho-Dan under Sensei Takayoshi Nagamine. Kyoshi went on to open clubs in Cincinnati, Columbus, Hamilton, Lebanon, Morrow and Stewart, Ohio and Kentucky. Kyoshi's most memorable experiences in karate include: his first class under Sensei Wax; opening the first Shorin-Ryu dojo in Cincinnati, Ohio with Sensei Takayoshi Nagamine; first class taken under Grand Master Shoshin Nagamine; testing for his San-Dan in front of Grand Master Nagamine, Takayoshi Nagamine and Sensei Omine; training his wife and sons to the rank of black belt; and training alongside all of the great people of Shorin-Ryu."
Kyoshi Driggs student, Terry Peters Yon-Dan, remembers: "I began my training in 1974 under Sensei Driggs and his two black belt instructors, Fred & Sandy Bolin. Classes were full and very hard, and the instruction was great! Sensei Jim was very hard to please on every technique. Kata was never good enough. Later, that proved to be a blessing. Sensei learned from the best and was wise beyond his rank. Sensei always kept the doors open, somewhere and somehow. Sensei is a very kind and gentle soul. No matter what rank or age, Sensei has compassion and time for all. I have been in Shorin-Ryu for 42 years, and can honestly tell you that you will never meet a better man."
Kyoshi Dale Pike shares his memories of Kyoshi Driggs: "I met Kyoshi for the first time as a green belt. I was impressed with his spirit of karate-do and his commitment to archiving the progression of the WSKF. I will always fondly remember the "Man of the Mountain" summer clinics he hosted. They always left me with a sense of invincibility, like I could walk through fire! I marvel at his precision and power. Kyoshi's legacy includes students with great knowledge of the history of Matsubayashi-Ryu and strong, solid technique."
According to Kyoshi Jeff Leistner, "Kyoshi Driggs has always been a true friend and a pioneer of Matsubayashi-Ryu and to the WSKF. He has been very instrumental in the growth of the WSKF over the years and a huge supporter of Hanshi Grant. His commitment to karate-do is unwavering."
In 1967, Hanshi Grant had the privilege of meeting Kyoshi Driggs. Kyoshi was a tremendous help to Takayoshi Nagamine when he came to the United States, taking him under his wing and helping him find a place to live as well as assisting him with learning English so he could communicate more effectively with the students. Through the years, Kyoshi has continued to be a devoted student of Matsubayashi-Ryu. He joined the WSKF in the 1970's and has been a member ever since.
For over 45 years, Kyoshi Driggs has guided and instructed many in not only karate, but karate-do as well. As Kyoshi has reflected on his life, his times in karate have been some of the most important events in his life. The people he has shared these experiences with are the most important part. Known for his exceptional knowledge and wisdom, Kyoshi shares, "karate and life are a lot alike. You only get out of it what you put in to it. Karate is like a breath. When you are born you breathe in and when you die you breathe out. What one achieves in that span is entirely up to them." Kyoshi feels that Shorin-Ryu is one of the very few systems that teach karate in its purest form - a form taken from man's natural abilities. He has left an impressionable mark on all who have encountered him, and is honored today with the WSKF BUDO HALL OF HONOR. Kyoshi lives with his wife Brenda in southeastern Ohio.