Dr. Chris Christoff inducted in 2009
---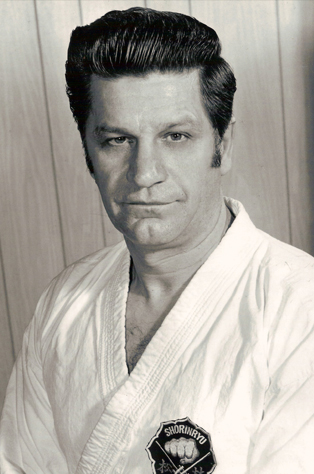 Dr. Chris Christoff was a man of great compassion and strength. He became a personal friend to Hanshi Grant and was one of Hanshi's advisors. Dr. Christoff walked into the Troy Street Dojo and talked with Hanshi Grant about his interest in the Martial Arts. After an hour, Dr. Christoff became a Matsubayashi-Ryu student of Hanshi Grant and eventually his entire family was training. Hanshi stated "Naihanchi's were difficult for Dr. Christoff, but with exhaustive training and private classes, he finally got it." He received the rank of Sho Dan and continued training until his passing.
Hanshi Grant remembers Dr. Christoff as a fantastic student who trained hard and lent a helping hand to everyone in the Dojo. He took care of the WSKF students. Kyoshi Olin, and many other students came to know Dr. Christoff as the "Dojo Doctor" giving free back and neck adjustments after class. Kyoshi Harris remembers Dr. Christoff as a very focused, dedicated student who always paid very close attention in class. Dr. Christoff kept a positive attitude and projected a compassionate feeling for individuals that crossed his path. He was the kind of doctor that every patient wished their doctor would be like. Kyoshi Harris states "if a person was fortunate to have been around Dr. Christoff at some time during their life, he was someone that you remember with a warm feeling in your heart."
Dr. Christoff's daughter, Lori McPeek describes her father - "Dad was the kind of person who went out of his way to help others. This was true in the karate dojo as well. It seems like whenever my dad came to class there was always a small line of people needing adjustments or medical advice. I think that pleased him. He was not your typical doctor, but believed in alternative medicine. He believed the body could heal itself naturally sometimes with just a little help from supplements, adjustments and even acupuncture. My dad traveled around the world learning and even teaching different alternative medicines.
My dad started taking karate because my younger brother got held-up at knifepoint by some thug. My dad wanted us kids to be able to defend ourselves and he also saw the health benefits of karate as well. Sensei Jim Hartley was a friend and patient of my dad. He recommended Hanshi Grant's Karate School. First my dad started taking karate classes from Hanshi Grant and then a few weeks later we were all taking karate classes, including my mom. One of my fond memories is on Saturday mornings my dad, brother Jeff and I would train and then we would go out to eat together at a favorite restaurant near the dojo. If it weren't for my dad, I would not be where I am today. Taking karate and receiving my black belt instilled more confidence in me.
My dad loved life and anyone who was a patient in his practice would have known he had many passions. Each of his treatment rooms had a different theme that represented those things in which he had a passion. One of dad's passions was his love of animals and one of his treatment rooms displayed his love of Arabian horses. That love grew into a full time family business of raising, breeding and showing Arabian horses. Dad of course loved karate and had a treatment room dedicated to karate. There were pictures of himself, and with Hanshi Grant, along with gifts and mementoes from his years of training. He was most proud of his promotion diplomas especially his Sho Dan. My dad and all of my family feel that those we met and got to know through karate are very special. I know that my dad would be very honored and proud to be inducted into the Budo Hall of Honor."