Chotoku Omine inducted in 2021
---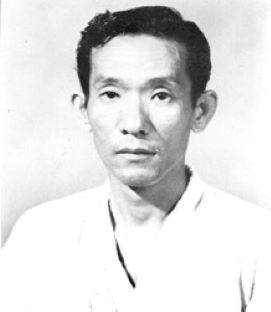 Chotoku Omine (Oct. 10, 1929 - Oct. 27, 1975) (hereinafter, "Sensei Omine") was a life-long student of Master Shoshin Nagamine and recognized as a karate master in his own right. He was born on the island of Saipan, located in the Northern Mariana Islands archipelago chain, Pacific Ocean. During the 1920s, for economic reasons, his parents, Saburo and Masako (nee: Sesoko) Omine, had migrated to Saipan from Okinawa. At the time, and until the conclusion of World War II, Saipan was regarded as a colony of Japan.
At age 14, during the invasion of the island by American military forces, Sensei Omine had sought shelter with his parents in a hillside cave. Which he later related in private conversations was truly a terrifying experience. For much of the time, during the three-week long battle, they had virtually no access to food and safe drinking water. And, at about that time, he had incurred shrapnel wounds to his legs and several of the fragments remained imbedded there for the remainder of his life. Following the surrender of Japan, he accompanied his parents on their return to Okinawa. In 1948, he became a student of Master Shoshin Nagamine. In 1960, he was promoted to 4th Dan and assistant instructor at Master Nagamine's dojo.
During Hanshi Frank Grant's first trip to Okinawa in 1966, Master Nagamine appointed Sensei Omine to be Hanshi Grant's foreign interpreter and advisor.
In January 1969, Sensei Omine accompanied Master Nagamine on the first of his several visits to the United States. Master Nagamine and Sensei Omine traveled to Cincinnati, OH to visit with the Master's son, Takayoshi Nagamine, who had established a dojo there. And to visit with Hanshi Frank Grant, and his students, at Frank Grant's dojo in Dayton, OH.
Master Nagamine eventually returned to Okinawa. Sensei Omine had offered to stay in the United States for an indeterminable amount of time in order to help solidify Matsubayashi-Ryu training in the U.S. He traveled across the United States several times to visit at member dojos where he held training seminars. Sensei Omine always visited with Hanshi Frank Grant during his several cross-country travels, with he and Frank enjoying their special and enduring friendship forged during Frank's first trip to Okinawa.
While on the West Coast in 1971, he visited at the offices of Karate Illustrated magazine in Los Angeles, for a discussion interview with their editorial staff. He posed for a photo spread that featured his performance of the Wankan kata which appeared in the March 1971 issue.
An 1969, a dojo established by Sensei Omine in Lynbrook, New York supported by a local group of karate students, had to be closed less than a year later, due to financial difficulties. Black belt Joseph Carbonara, who had recently opened a dojo in East Northport, Long Island, commendably stepped forward to provide Sensei Omine with a place to stay, a dojo to teach at and financial assistance. Shortly after, Sensei Omine expressed his desire to remain permanently in the U.S. Joe Carbonara secured employment for Sensei Omine, first with assisting Joe at his custom-made slipcover & draperies cutting business and, thereafter, with being employed at a dojo student's dry-cleaning business.
In 1971, Sensei Omine was residing in a rear room at Joe Carbonara's dojo. He nearly lost his life when a fierce fire developed late one night that completely gutted the dojo. Sensei Omine, who was pulled from the flames by responding firemen, had suffered third-degree burns. Joe opened a new dojo and Sensei Omine, while enduring a painfully long convalescence, fully recovered.
By 1973, Sensei Omine had accumulated a sufficient amount of personal savings that would allow for him to bring his wife and four children to the U.S. In that respect, he had decided to relocate himself to the West Coast, where he established a new dojo near San Francisco, in San Bruno, California.
Sensei Omine was a superb kata technician. He was highly renowned in Okinawa for his performance of the Naihanchi kata. The three Naihanchi were his favorite and strongest kata. Late one evening after class while at Joe Carbonara's New York dojo, Sensei Omine's student, Steve Corriss, asked Sensei Omine to demonstrate the kata Kusanku, while performed at full speed and power. The request was made to help discern the correct timing and rhythm when performing the individual moves. Steve's impression: "Sensei Omine's performance was the single most explosive demonstration of raw power and speed of its kind that I have ever witnessed. His punches seemed to crack the air. "
Sensei Omine was also renowned for his professional skills as a photographer. In Okinawa, he earned a living primarily as an event photographer and was employed at one of the U.S. military bases. Linguistically, he spoke genuinely perfect English. He was completely devoted to his teacher, Master Nagamine, and the tenets and teachings of Matsubayashi-Ryu.
Hanshi Frank Grant had once mentioned to Steve that of all the individuals at Master Nagamine's dojo with whom he had trained alongside (primarily with reference to arm training, yokusoku kumite, etc.) Sensei Omine was the only one who could cause him to feel really uncomfortable pain. And Takayoshi Nagamine had commented that there were two karate practitioners in Okinawa who were considered to be, "too strong for anyone." With such persons being Kensei Taba and Sensei Omine.
In 1969, he arrived in the U.S. with Master Nagamine, in 1969, Sensei Omine held the rank of 6th dan. Later, when Master Nagamine twice offered to promote Sensei Omine to 7th dan, he politely declined.
On October 26, 1975, at age 46, Sensei Omine suffered a massive cerebral hemorrhage and passed from this life the following day. His remains were cremated. He was survived by his wife, Michiko, and their four children. Posthumously, he was awarded the rank of 8th dan by Master Shoshin Nagamine. As both a Matsubayashi-Ryu master and teacher, to those who knew and trained under him, he was a genuine Treasure.